IBS Progetti was established in 1998 thanks to the experience and expertise of its founding partners in the fields of Architectural Engineering and Telecommunications.
The subsidiaries IBS Sistemi and RES Rilievi e Servizi were launched in 2000 and 2018, respectively.
Over the years, the "IBS Group", thanks to the satisfaction of an ever-growing number of customers, has extended the range of services it offers and has expanded its field of action into other areas of Engineering and Construction.
A focus on customer needs combined with staff development and training are the foundations for the growth of the company, which, over time, has added numerous other offices throughout Italy to its original headquarters in Chianciano Terme.
Nowadays, IBS Progetti can rely on a dense and constantly expanding network of partnerships. Sustainability, Quality and Safety are not only internal procedures to guarantee regulatory standards but, in their broadest sense, are corporate values extended to every activity and relationship: from the selection of customers to the organisation of orders, from the training and organisation of resources to the choice of employees, right up to the monitoring of results and the achievement of set objectives, and the management of our customer satisfaction indexes.
/ staff by age group
The management of the IBS group has always wondered which path was the best one to follow: constant generational turnover in search of professionals who will bring new energy or maintaining staff over the years, safe in the knowledge that experience and growth are of irreplaceable value?
We believe we can be proud of the perfect balance achieved between young and experienced people, each serving the other: average age 38 years.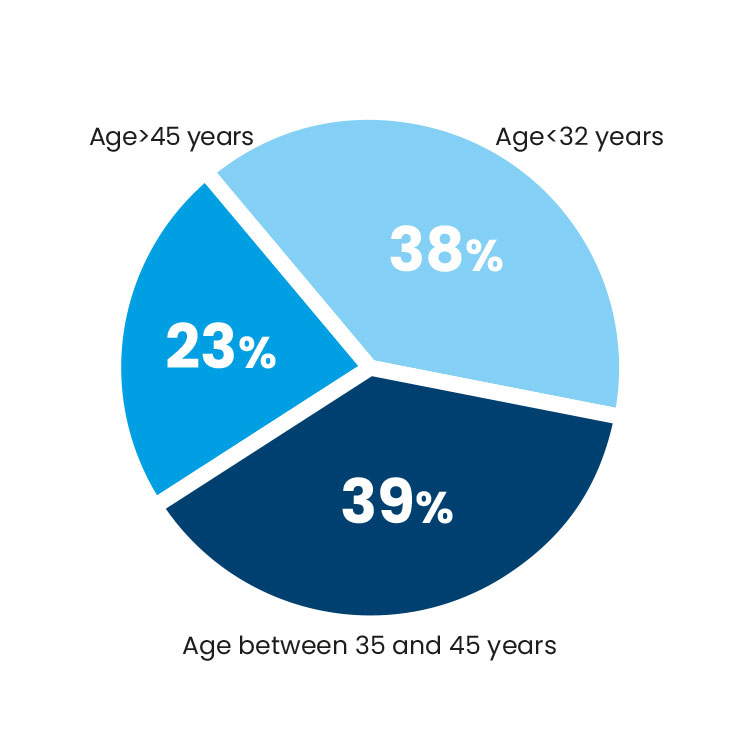 / staff by gender
At IBS Progetti, gender is not a decisive factor. We have entrusted many strategic roles in programming and planning, control and management, to capable professionals. We are ready to seize all the opportunities that the labour market will offer us; gender equality is not an obligation for us but an opportunity for growth.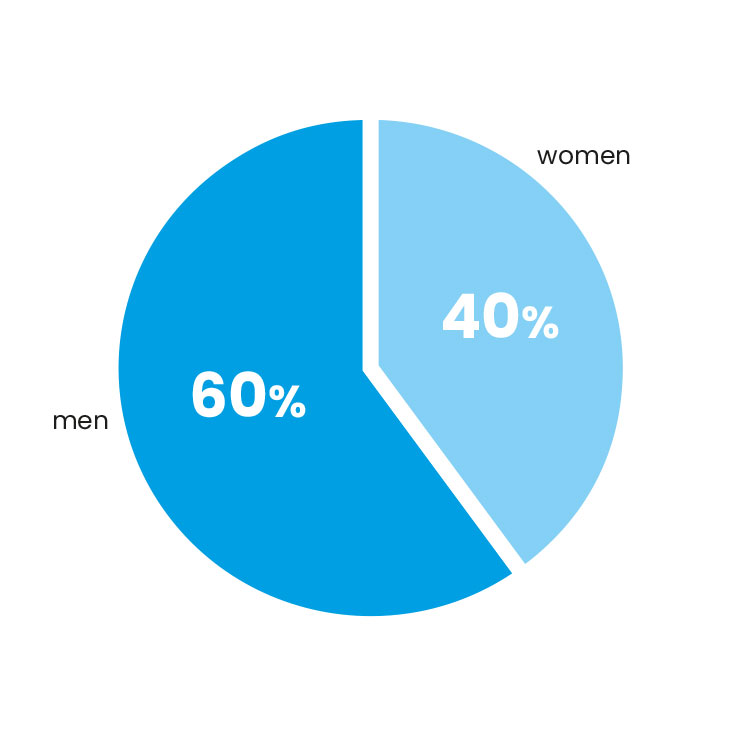 / staff in smart working
"Flexibility is a sign of respect for what the customer wants and for what employees need to work with peace of mind." This is why we have embraced the philosophy of hybrid working: an organisation of activities that adapts quickly to the needs of the moment, whether in the office, at home or at the customer's premises. In this way, we contribute to the reduction of CO2 emissions into the environment, to the reduction of risks for travellers, and to free time to pursue personal passions.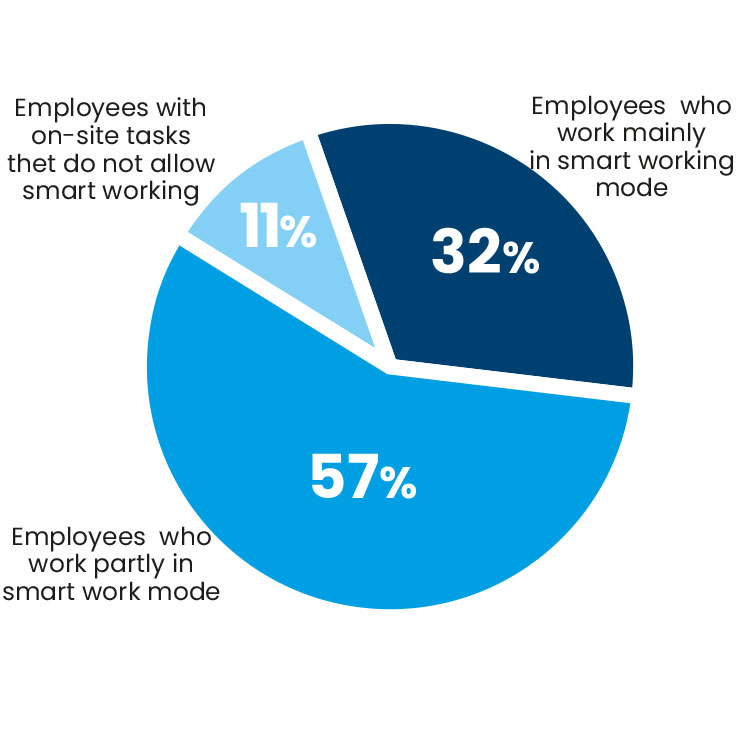 /quality
Satisfying the needs and expectations of the customer has always been our guiding principle, as has the need to comply with the customer's requirements and deliver the desired product according to the established methods and timescales, making flexibility our core value.
Achieving ISO9001 certification in 2010 was a natural consequence.
Today, we have a quality management system that constantly monitors our processes and, thanks to the continuous efforts of our team, we are able to handle the unexpected while still safely delivering quality products on time and on budget. However, our achievements have not stopped us: it is always time for action, and after each result, we are ready for a new goal. This is the guiding spirit underlying our work, and so we could not remain indifferent to the issue of environmental sustainability. Each of us leaves a footprint on the planet, and adhering to an environmental management system is a voluntary step that cannot be postponed: this is why we have obtained the ISO14001 and SA8000 certified system, but we have already implemented behaviours and made choices that anticipate the ultimate goal:
smart working to limit travel and CO2 emissions;
digitisation of procedures and documentation, reducing the use of paper, storage space and highly polluting toners;
a constantly renewed fleet of vehicles tending towards the purchase of less polluting vehicles and using alternative fuel sources;
"We want to think of the implementation of environmental management policies not as an obstacle but as an opportunity for growth and conscious development, certain that we will be able to benefit from reductions in management costs by optimising the use of raw materials, reducing waste and emissions, and cutting energy costs".
/safety
We have a well-established history and a growing number of professionals, but we are also a family, and we need to take care of the health of our "children", which is why we have always applied safety policies that have zeroed the number of accidents at work.
A continuously updated risk assessment, with workers' interests as its focus, ongoing professional development, involvement in the organisation and company decisions, with standardised consultation and participation processes.
In 2022 we obtained the ISO45001 certification, which, in addition to representing a high degree of respect for workers, will have the advantage of enhancing well-being, productivity, cost containment and an overall improvement in corporate image.
/Multidisciplinarity at the service of multiple customers.
Over the years, IBS Progetti has tried not to shy away from the novelties and opportunities that the market has presented to it and has committed itself to training staff when the challenges have required expertise not present in the company. Although mobile radio remains a strong point and the main division, all the other sectors are continually expanding and have gone from being a simple challenge to a concrete reality; an engineering company that believes in the diversification and interdisciplinary nature of its workforce.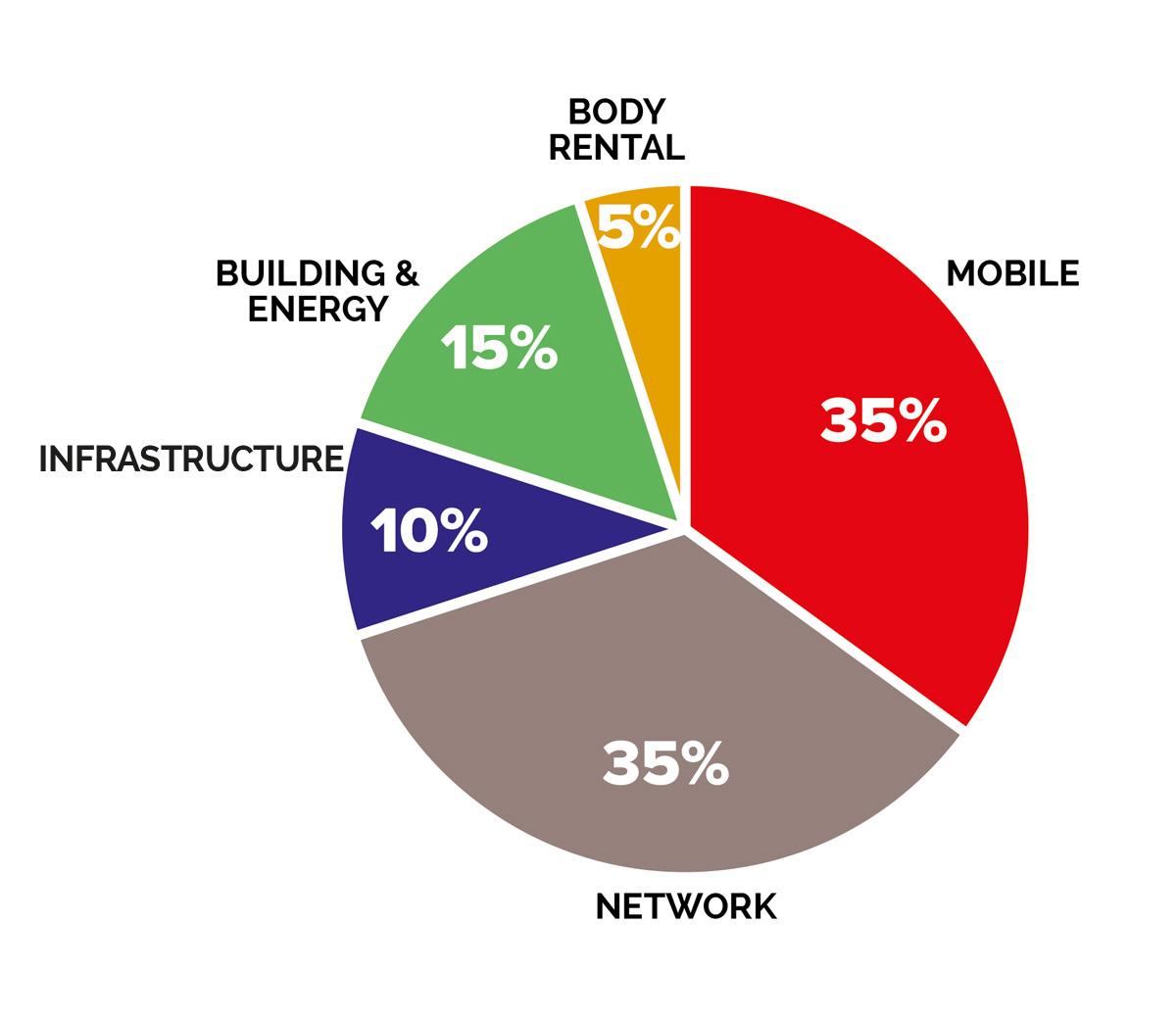 IBS Progetti is constantly on the lookout for new job opportunities both in Italy and abroad.
The group can boast important collaborations with leading companies in the market for special systems serving large infrastructures, which have enabled it to make a design and management contribution to international projects in many European and Middle Eastern countries:
Dublin – Copenhagen – Thessaloniki – Algeria – Liberia – Etihad – Doha – Riyadh.
These experiences have not only enriched the company's portfolio but have also enabled our staff to deal with complex contract management systems.